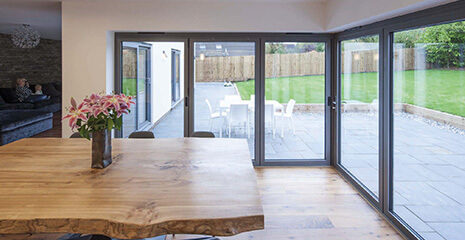 Energy efficient
We can fit bifold doors in any one of 36 different opening configurations with panel amount ranging between two and seven. Regardless of preference, however, impressive energy efficiency and thermal retention is guaranteed thanks to each panel making use of multiple chambers within the aluminium frame. Combined with double glazing, heat will have a tough time at escaping and your home will be kept comfortable.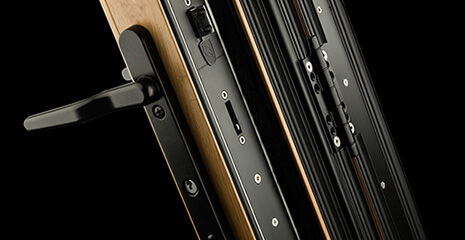 Highly secure
Bifold doors from Double Glazing Essex can accommodate a multi-point locking system to keep the rear of your home defended against intruder attacks. Your safety is improved further because of how our aluminium doors operate. Anti-lift blocks prevent the sashes from being held up and compromised and fitted hinge bolts serve to lock the frames securely together when the doors are closed.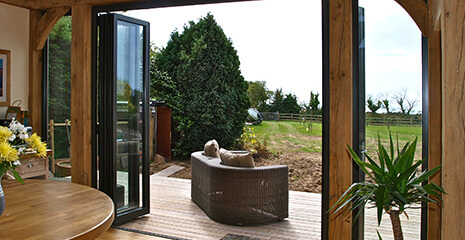 Increased natural light
Double Glazing Essex Ltd's complete collection of bifold doors feature the slimmest sightlines, making it easy for homeowners to let lashings of natural light flood and permeate the home. This also creates generous views of the outside before you step out, doubling up to give a true feel of open plan living. Once installed, your bifold doors will give the impression that your home extends further out into the garden.
Slim sightlines

Increased light entry and wide open views

Totally secure

Anti-lift blocks and hinge bolt fittings

Colour choice

Finishes are powder coated and can vary either side of the frame, popular colour options include Anthracite Grey and any RAL colour

Thermal Efficiency

Multi-chambered frames mean heat is easily trapped
Bifold doors can open up your Essex home
We can install bifold doors in any panel configuration ranging from two and seven – it's entirely dependent on the size of your aperture. Opening in or out, with left or right sliding options, each sash will safely and neatly fold in on another to any selected side, so you can always make the most of space when transitioning to the outside. Bifold doors grant you easy access to your garden and beyond, helping to really open up your living space and bring the outdoors in. They are able to create an easy transition between the inside and outside of your home, while allowing you to still enjoy the views even with bad weather.
Why choose Bifold doors?
Bifold doors are becoming an increasingly popular feature within Essex homes, as well as commercial applications. Our aluminium doors feature slim frames which makes them the perfect addition to minimalist-inspired interiors, with a seamless opening action that offers character like no other door system around. They essentially transform the back wall of your home into one of complete glass, all thanks to minimalist frames and slim sightlines which allow natural light to easily enter. Comprised of multiple panels, they neatly glide and fold alongside one another on a smooth track.
Popular colours for bifold doors. *For an accurate representation please request a colour swatch.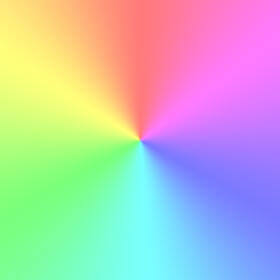 How much do bifold doors cost?
Bifolding door costs are dependent on the size of the area they need to cover. The price will be determined by the number of panels required to fill the space.
Our bifold door prices are affordable and high quality. To get a price for bifold doors contact one of our Essex based experts for a quote tailored to your requirements.
Are bifold doors a good idea?
Yes, bifold doors are a good idea for rear home entrances. Bifold doors are often quick to install. They are amazing at making the end of the home and the beginning of the garden seamless. They provide extremely good ventilation and are low maintenance as well as being a stylish and sought-after edition to a space.
Our bifold doors made of aluminium are extremely durable and resistant to warping and corrosion, ensuring they will last for years to come. If you're looking for inspiration for your next home improvement project, stop by our showroom to see our selection of quality products, such as uPVC and aluminium windows, French doors, and sliding patio doors. Our team of experts are available to answer any questions you may have, so don't hesitate to ask. Pop into our showroom
Double Glazing Essex Ltd
101 London Rd
South Benfleet
SS7 5TG
Book an Appointment
What our customers say
about our service
"DG Essex ltd installed complete window, soffit and fascia and cladding to my home in an excellent and professional manner. I rate this company highly."
- Customer in Benfleet
"The workmen arrived on time. Were polite and tidy. Friendly and discussed work as it progressed. Job looks good and site was left tidy - professional."
- Customer in Benfleet
"Removed existing windows and doors and replaced with high quality PVCU double glazed windows and doors"
- Customer in Benfleet