Perhaps you've got a dark room that needs refreshing, or you're looking for easy access and a pleasant view of the garden. Then an exterior access door is exactly what you need, but which one? With the many types available to you it's often easy to get bogged down in all the technicalities of it all, so we've chosen two of the most popular door styles to explore that can be installed easily and anywhere! Hopefully you can take something away from this post that will help you narrow down your choices and make an informed decision on what's best for you and your home.
uPVC & aluminium patio doors
Let's begin with the patio doors, also known as sliding doors. Typically composed of 2 panes but ranging up to 4 panes of glass, patio doors slide sideways to the end of the frame for easy access. Chances are you've seen one of these before, we're sure you'll agree they're a great way of introducing lots more light into your room!
Installing a patio door will instantly refresh any room and change its appearance for the better, allowing it to breathe and feel much bigger. In addition to that, the main reason to have a patio door is to streamline access to your garden and saves traipsing around through your front door. If security is your concern, then panic not; Double Glazing Essex's sliding patio doors utilise Yale branded four hook bolts, plus two shoot bolts at the top and bottom for enhanced reinforcement; this will keep you and your loved ones safe and keep your mind at ease.
Now this all sounds great, but you wouldn't want an unsightly addition to your home, right? We offer our customers the choice between having patio doors engineered in either low-maintenance uPVC or sleek and stylish aluminium. Both are fully equipped to meet the demands of the modern home – albeit each with their own bespoke benefits. Aluminium panels feature slimmer frames to let in more light, for example, while uPVC is durable enough to create complex shapes and stay easy to look after. Both of these are offered in an array of colours or even textures if a wood grain effect is more to your taste.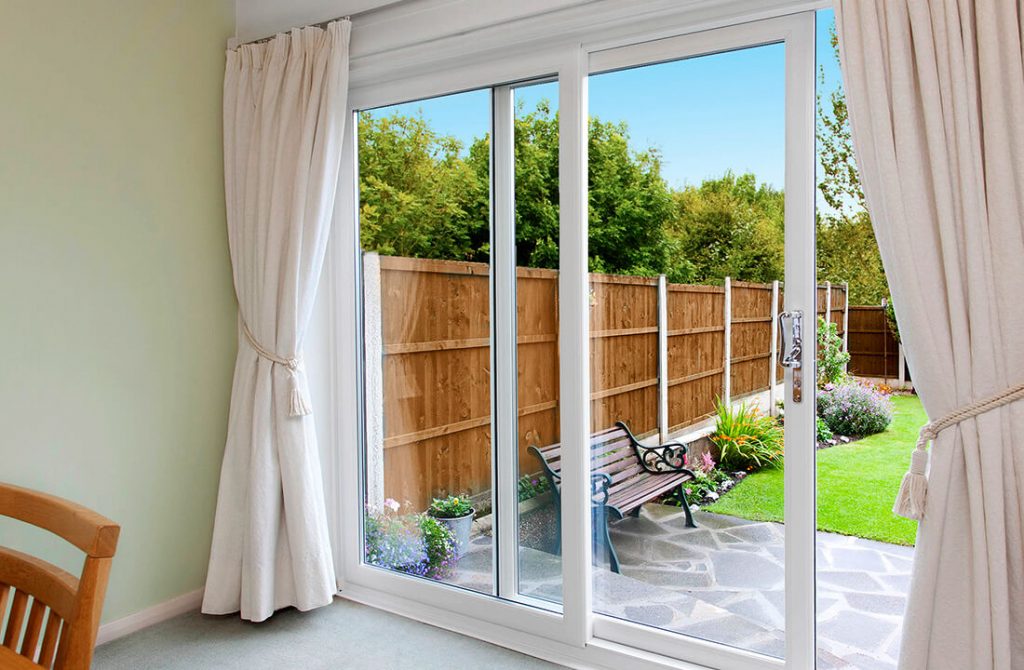 uPVC, wooden or aluminium bi-fold doors
Moving on to bifold doors… These really are a special bit of ingenuity and a personal favourite of ours. Bifolds offer a uniquely stylish aesthetic and there's no better way to create a seamless transition between the end of your house and the beginning of your garden. Your degree of flexibility sees no bounds here because you can have numerous panes of glass to suit your needs. However, one thing that's constant is the fact that bi-folding doors slide to the side and the individual door leaves neatly stack on top of one another, saving lots of space.
Moreover, bi-folding doors can be arranged anywhere in the house and even around corners – ideal for a rear home entrance if you need one. These doors are a minimalist's dream; taking up no space on the inside in comparison to other doors which usually require a step. Speaking of minimalist – bi-fold doors are often larger than your standard door, transforming your living quarters into a modern-day luxury with ease. With all that extra glass, there's no need to worry about strength either, as these bi-folding doors offer fantastic security options – including multi point locks, anti-pick cylinders and toughened glass up to five times stronger than regular glass for absolute peace of mind.
Again, customisation sees no bounds with our bi-folding doors either! We offer customers bi-folding doors in either uPVC, wooden or aluminium frames, all of which can be designed in any colour or texture – from fashionable Anthracite Grey aluminium bifold doors to Chartwell Green timber bifold doors and everything else in between. Many of our customers opt for aluminium bifold doors as the frames are thinner, allowing for more viewing pleasure. However, if you're on a budget uPVC bifold doors are still as glamorous only slightly bulkier. If natural style appeals more, then wooden bifold frames can really change a room's overall look whilst adding a beautiful traditional flourish to your property.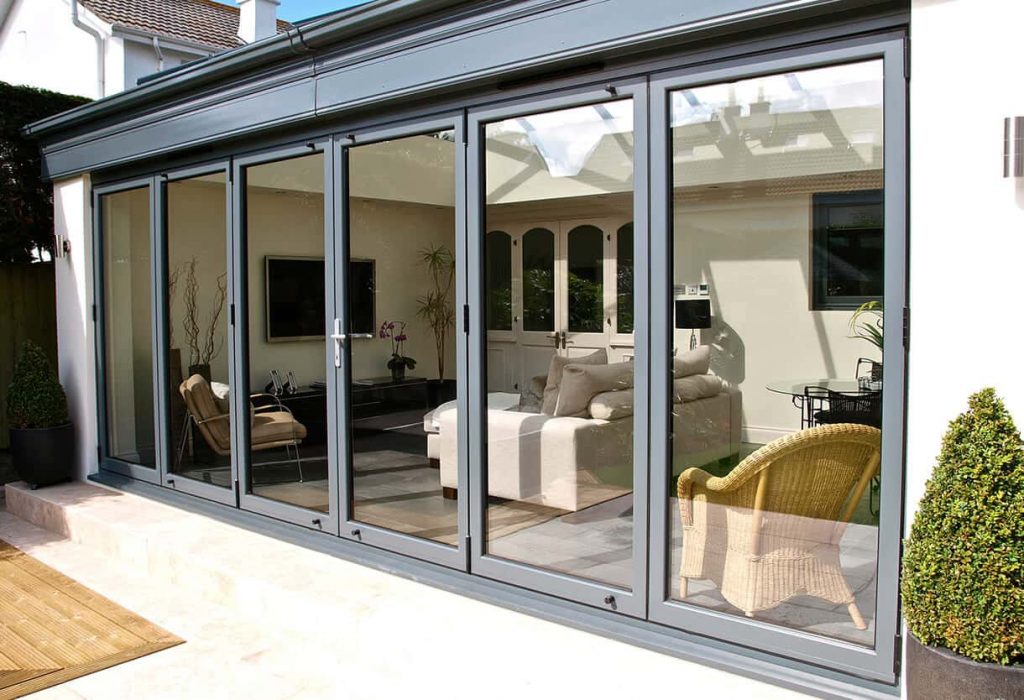 Bi-fold doors vs sliding patio doors | What to pick?
When comparing the two it really is quite difficult to advise someone one over the other because ultimately it comes down to personal preference and the property in question.
–  Bifold doors are best for open plan living (can provide a 90% unobstructed opening)
– Sliding patio doors are more suited to smaller spaces as they don't need the space to open and shut, as well as providing unobstructed views.
However, if you are on a budget but still want to add a creative touch to your space then patio doors are a fantastic choice being the cheaper of the two options available in uPVC or aluminium whereas the bi-folding doors are considered to be more expensive but do vary due to the fact you can keep increasing the number of door leaves you want. If you're stuck in the middle ground, try and evaluate what space is available to you and what you could try and create with the addition of a bifold or a patio door.
High performance bifold doors & patio doors in Essex, London & Kent
For more information on any of our high performance windows, doors and conservatory refurbishments, don't hesitate to book an appointment to visit our showroom, get in touch or give us a call on 01268 424904.