With the hot summer months beginning to kick in, you may have found yourself considering installing a roof lantern or skylight into your home – we know lots of our other customers have!
So, to help you decide which one is best suited to the aesthetic style of your home – of course, we all wish for our roof lantern or skylight to match our windows – and your budget, here are some of the top questions answered.
Roof lantern FAQs
Can I put a roof lantern on a pitched roof?
Unfortunately, as much as we are sure you would all love to, you cannot install a roof lantern on a pitched roof. You can, however, add these to most existing home extensions, as well as rooms with a flat roof above or installed in new areas of your home. Both of these would again be with a flat or low-pitched roof.
What are the benefits of my lantern roofs being provided by Atlas?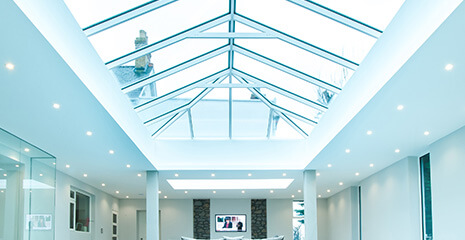 At Double Glazing Essex, we install roof lanterns from Atlas Roofing Solutions, the pinnacle of glass roof technology. Atlas roof lanterns provide a wealth of benefits such as superior thermal performance, which can of course lead to a reduction in heating bills.
There are also traditional or contemporary designs to suit any type of home and a stylish exterior aluminium aesthetic that can be customised in over 200 durable powder coat colours! So, you can easily decide which colour you'd like to match your aluminium windows, or even your French doors; we are sure to have a colour to suit any Essex home.
What size roof lantern should I get?
If you are worried about trying to fill an unusually sized aperture, don't be. We have a range of roof lantern options of various shapes and sizes available to suit you. These range from circular roof lanterns that have a maximum size of 4800mm, to our contemporary designs that have a maximum size of 1500mm x 3000mm. Our Atlas brochure includes lots of details for you to read at your leisure.
Why is the U-value of the roof lantern important to me?
The U-value measures how heat is transferred by the window, frame or glass. The lower the U-value, the more efficient the window unit or, in this case, roof lantern.
Each of our roof lanterns delivers impressively low U-values of just 1.5 W/m²K – that's twice as efficient as the nearest competitor.
Can I install blinds on my lantern roof?
Yes, you can! You can either install pleated blinds or roller blinds. Both choices have a variety of devices and features for you to choose from, such as an electronic remote control or pull cable.
Where can I put a lantern roof?
Let us ask you – where would you like to introduce more natural light into your home? Did you answer the kitchen or conservatory? Great choice, these are popular options with many of our customers too!
Although a lantern roof can be incorporated on any applicable part of your home which has a flat roof, they tend to be more commonly found on a kitchen or conservatory. This is largely because these rooms are at the centre of most homes and where families spend most of their time.
Skylight FAQs
What is a skylight?
A skylight is a window set in the roof or ceiling at the same angle, which you can either install on a flat or, unlike roof lanterns, a pitched roof too!
What is the difference between a skylight and a lantern roof?

There are many differences between a skylight and a roof lantern. The easiest way of differentiating between the two is that a skylight is a glass panel (or glass panels) that is installed in the roof itself and is part of the structure. By contrast, a roof lantern protrudes from the roof itself and by that, we mean that it sticks out from it.
Due to these differences, we commonly find that a lot of our customers request us to install these products onto different parts of their homes. Such areas include skylights onto their attics and roof lanterns onto their conservatories or extensions.
Do skylights lose heat?
Since skylights are located on the roof, sometimes they can lose heat. Thankfully there are many different ways, such as being mindful of where you install the skylight. For example, a south-facing part of your house will receive the most daylight and so will help your skylight lose less energy.
What is the lifespan of a skylight?
Typically, a skylight usually lasts anywhere between eight and 15 years, with the latter being if it has been looked after well during those years.
How do I clean a skylight or roof lantern?
You will be pleased to read that our Atlas roof lanterns also incorporate a self-cleaning coating into the glazing which means that it is low maintenance. A microscopic film coats the glazing which reduces the build-up of dirt and debris, meaning the need for manual cleaning will be far less frequent.  This means that ultimately it will reduce your worries with regards to any sort of regular maintenance.
Read our related blogs: