If you have decided you would like to improve your Essex home by installing a roof lantern, you may be considering if you need planning permission to set your plans in motion. As roof lanterns form part of a roof, it's essential to know what to expect as far as planning permission is concerned to ensure you tick every box. We've made things easy by putting together this simple guide to the planning permission involved with installing roof lanterns.
Roof lanterns and permitted development rights
Thanks to permitted development rights, you will generally not need planning permission to install a roof lantern in your home. Permitted development rights were created by the government to allow homeowners the ability to extend and renovate their homes without the need for a full planning application.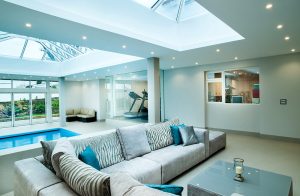 For roof lanterns, you can obtain a permitted development confirmation. This isn't required in order for the installation to start, but it's written proof from your local council that your project falls within permitted guidelines. This will give you peace of mind and prevent issues further down the line, like when it comes to selling your home. However, you must ensure that you adhere to the stipulations that are mentioned in the rules set out by the permitted development:
The roof lantern must not project any higher than 150mm from the existing roof.
 The roof lantern must not be any higher than the highest part of the main roof.
The roof lantern must not extend more than 15cm above the sloped plane of a roof.
Any side-facing windows must be obscure glazed and any openings must be 1.7m above the floor.
These guidelines are for modifications to a house. The guidelines for converted houses, flats, and maisonettes all vary, and its best to consult your local accredited installer or local council before going ahead with a roof lantern installation, no matter what type of property you have. The rules may also be different for listed buildings as they fall under certain regulations designed to protect the history and heritage of certain buildings. Your local council, as well as your local trusted installer, will be able to provide clarity on individual projects.
Roof lanterns and building regulations
Your roof lantern installation must still meet Building Regulations approval status, even if it meets the criteria for permitted development rights. Building Regulations consider several factors such as weatherproofing, insulation, and the installation's ability to carry weight. Fire safety and performance will also be considered if the roof lantern is near a boundary.
Building Regulations can often feel like an overwhelming element to deal with, but by contacting a roof lantern specialist, such as us here at Double Glazing Essex, we will take care of any Building Regulation concerns for you.
Roof lantern options in Essex
Double Glazing Essex can help you transform your roof with options designed to improve both comfort and aesthetics. From three different conservatory roof options available – tiled conservatory roofs, conservatory glass roofs, and roof lanterns, we are sure to have an option to suit your home in Essex.
To learn more about the different options, please download our brochure, contact us today via our website or give us a call on 01268 424904. Our team of experts will look forward to hearing from you.
Read our related blogs:
Our 11 top asked roof lantern and skylights FAQs
What is the difference between a roof window and a skylight?