Upgrading your windows is an excellent way to improve your home. If your property is fitted with single glazed windows or double glazing that are over 10 years old, it's highly likely that your home's thermal efficiency performance does not meet the required standards. Installing new double or triple glazing will greatly improve your home's performance, helping you to save money on reduced energy bills and do your bit to reduce your carbon footprint.
It's not just about improving thermal performance. Installing either double or triple glazing will provide a wealth of benefits for any homeowner. Let's take a closer look at the features and benefits of each option.
Double glazing features and benefits
At Double Glazing Essex, as the name suggests, we install a wide range of high-performing double-glazed products, including bi-fold doors. Our double glazing is designed to insulate and protect. When you upgrade your windows with our high-quality double glazing you get:
Excellent energy efficiency levels – The space between the two panes in our double glazed sealed units is filled with inert argon gas. This enables your new windows to achieve U-values as low as 0.8 W/m²K. This equates to reduced energy consumption meaning a warmer home and lower heating bills.
Superb security standards – Two glass panes in your windows provide more protection against break-in attempts. Add to this, high-security multi-point locking systems and your new windows will repel even the most sustained attempt at forced entry.
Outstanding acoustic insulation – Well-insulated double glazing helps to reduce noise transmission by blocking out sound vibrations. The gap between the glass panes absorbs the sound waves to create a quieter and calmer interior living area; perfect for properties close to busy roads, airports or in bustling city centres.
Why upgrade to triple glazing?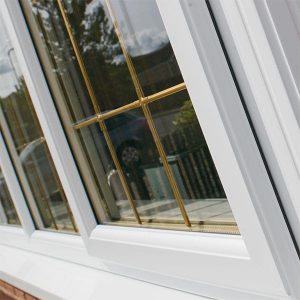 Triple glazing uses the same design as double glazing and enhances the performance by adding an extra glass pane to create two gas-filled chambers inside the window. This is a particularly effective way to improve both thermal and acoustic insulation. If you live in a noisy area or your property is in an exposed position eg. On the coast or in an isolated rural area, triple glazing is an excellent idea.
At Double Glazing Essex, all our windows are available with double or triple glazing. Both options will make a significant improvement to your home's performance and the ultimate decision will depend on your own personal requirements and expectations from your new windows. If you'd like to find out more about a window upgrade from Double Glazing Essex, contact us today. For more information about any of our products and services call 01268 424 904 or contact us online.
Read our related blogs:
What are the obvious signs that point to needing to replace your double glazed windows?