No one wants to choose between heating and eating, but this year's record-high energy bills haven't given many families throughout Essex much choice. So, if you're looking for energy-saving hacks to heat your home for longer, without adequate insulation, did you know up to 35% of your home's heat could be escaping through its walls?
If you like the idea of giving your home a facelift whilst improving its energy performance at the same time, cladding could hold the answer.
Does cladding help insulate a house?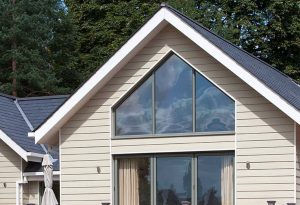 Yes! High-performance fibre cement cladding (like ours!) is one of the most efficient cladding options around for households in Essex looking to save more energy and reduce their heating bills. An eye-catching, low-maintenance alternative to uPVC cladding and timber cladding, incorporating cladding is like adding an extra layer of clothing to your home. Modern cladding insulation works by effectively blocking any gaps, cracks, or holes where cold air could be getting inside or allowing warm air to escape.
Is fibre cement cladding a good insulator?
Designed with conserving energy in mind, our Marley Eternit cladding can reach remarkable U-values of just 0.212 W/m2k.
What does the U-value tell you?
The U-value measures how heat is transmitted by the cladding material; the lower the U-value, the more efficient the cladding is. Current building regulations for external wall insulation must not exceed 0.26 W/m2k*, so you can trust in our quality cladding products to fully comply with current and future building regulations.
*Correct at time of publishing.
Why use fibre cement cladding?
Considerably reducing your reliance on costly heating options to keep warm this winter, fibre cement cladding is a popular choice for a variety of reasons, including: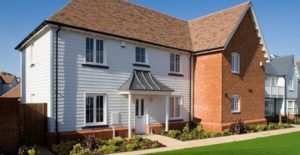 Durable and dependable, unlike uPVC or timber cladding, fibre cement cladding can last up to 50 years with very little maintenance required
Offering superior fire protection, our fibre cement cladding has a Class A fire rating for absolute peace of mind in the event of a fire
Exceptional protection against the weather
Fibre cement cladding is 100% recyclable
Generally, fibre cement cladding takes less energy and time to assemble, making it even more environmentally friendly and sustainable than other cladding options.
Exterior cladding tailored to homes in South Benfleet & Essex
A fantastic option for existing properties and new build projects alike, our contemporary cladding products will seamlessly enhance your home's kerb appeal whilst transforming its energy performance with ease and finesse.
To learn more about different styles, colours, and more, please have a browse through our brochure, contact us online, or give us a call on 01268 424904. Our team of cladding experts look forward to hearing from you very soon.
Related reads:
4 benefits of Marley Eternit fibre cement cladding
Do I need planning permission for external cladding on my Essex home?